Concrete Answers Series for Architects, Engineers and Developers |
Click here for more answers
Help
for Commercial Projects
Roller Compacted Concrete
...strong, dense and durable.
Roller Compacted Concrete pavement is best described as a zero slump concrete that is placed with standard or high-density paving equipment and consolidated/compacted using steel-drum or rubber-tired rollers to achieve a durable, wear resistant surface.
Roller-Compacted Concrete pavements were first used in the 1970's for stabilization of logging roads in the US and Canada. It has proven to be a very effective heavy duty pavement that can stand up to harsh climates, heavy wheel loads and difficult operating conditions. Typically, Roller-Compacted Concrete has been used for heavy duty pavements such as log handling yards, intermodal terminals, freight depots, and other industrial applications. However, more recently there has been an increase in the use of Roller-Compacted Concrete to create cost-effective pavements for many conventional highway and street applications.
Benefits of Roller-Compacted Concrete
Speed of Construction

Durability
Low Maintenance
Competitive Cost

Sustainability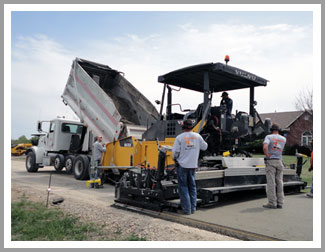 References
Much of the information for this site is from the Guide for Roller-Compacted Concrete Pavements, published by the National Concrete Pavement Technology Center. The guide is considered by many to be the most comprehensive resource for Roller Compacted Concrete pavement. It is highly recommended that designers and specifiers who are interested in utilizing Roller Compacted Concrete pavements should refer to the guide for all aspects of specifying, designing and constructing Roller Compacted Concrete.
Thanks to our Website Sponsors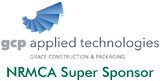 Roller Compacted Concrete Guide...
The Guide for Roller-Compacted Concrete Pavements is available for purchase through the National Concrete Pavement Technology Center and the Portland Cement Association. Click here for more information.
NRMCA Specifier Webinars
Continuing Education for Architects, Engineers, Developers and Owners

NEW! ACI 330 R-08 – The Gold Standard of Concrete Parking Lot Design

Earning LEED® Credits by Utilizing Ready Mixed Concrete
Take a detailed look at the growing role played by ready mixed concrete in green building design and construction, including an overview of the LEED Green Building Rating System.

The Quantifiable Advantages of Concrete Parking Lots
With a free copy of NRMCA's Concrete Pavement Analyst (CPA) software, learn to produce detailed life-cycle cost comparisons of concrete and equivalent asphalt pavement designs.

Designing and Specifying Pervious Concrete
(Two-part Webinar)
Learn about pervious concrete pavement systems, engineering properties and construction techniques, including specifics to consider when drafting pervious concrete specifications.
These Webinars are AIA—registered and earn Professional Development Hours for participants.