Concrete Answers Series for Architects, Engineers and Developers |
Click here for more answers
Help
for Commercial Projects
Applications
Logging Facilities, Composting Areas, and Storage Yards
Roller Compacted Concrete was first used for log handling facilities in Canada in the mid-1970's. This type of application requires pavement strength and durability to support the heavy loads. Surface appearance, texture, and smoothness are of lesser importance for these applications; therefore, coarser aggregates can be used. Road graders and dozers are sometimes used to place the Roller Compacted Concrete in the most basic applications.
Ports, Intermodal Facilities, and Heavy Industrial Facilities
Ports and heavy industrial facilities are large, open areas with few obstructions that may delay the construction process, making them ideal candidates for Roller Compacted Concrete. The heavy container handling equipment will often have point loads of 13 ton or higher. Traffic speeds are typically 30 mph or less.
Light Industrial Areas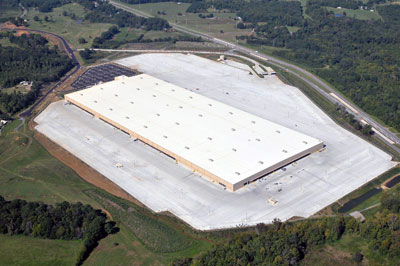 Similar to heavy industrial areas, light industrial areas, such as warehouse facilities and auto manufacturing facilities, provide large uninterrupted areas that are ideal for Roller Compacted Concrete. Access roads within the industrial complex represent another application for Roller Compacted Concrete.
Arterial Streets
Traffic is always a major concern when paving arterial streets. Due to traffic constraints and the time required to place multiple asphalt lifts, some agencies have chosen to use a single lift of Roller Compacted Concrete pavement to pave arterial streets. Roller Compacted Concrete pavements can be constructed rapidly, reducing both project and user costs.
Local Streets
Speed of construction, economy, and early opening to traffic are key reasons to use Roller Compacted Concrete for streets and local roads. In some cases, light traffic has been placed on the Roller Compacted Concrete pavement within 24 hours after construction to accommodate nearby businesses. In addition, using Roller Compacted Concrete for new residential developments provides a strong working platform during site work and construction. Surface treatments can be applied when the development nears completion.
When traffic speeds are greater than 30 mph, surface smoothness is important. To achieve better surface smoothness, most projects use high-density pavers and/or diamond grinding. A thin asphalt surface course placed on top of the Roller Compacted Concrete is another option.
Widening and Shoulders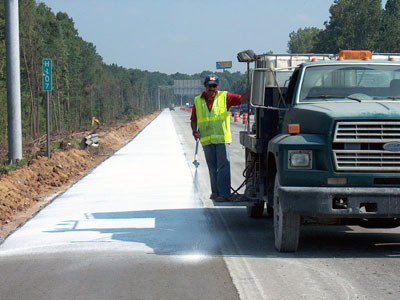 In numerous areas of the United States, widening roadways is a common way to meet new lane and edge drop-off criteria. In many instances, the road is widened into areas where soil and road foundation conditions are poor. The strength of Roller Compacted Concrete and its speed of construction make it particularly suited to road widening applications. The material provides a stable foundation that can be surfaced with asphalt or concrete for highway traffic and that provides a long, low-maintenance life. Distressed pavement in shoulders can also be replaced with Roller Compacted Concrete. The benefits of the material make Roller Compacted Concrete a viable option for pavement designers.
Multi-Layer Pavement Systems for High-Speed Uses
For roadways carrying traffic at highway speeds, Roller Compacted Concrete is currently used primarily as a base under a thin asphalt wearing course for rideability. However, another possibility is to use Roller Compacted Concrete as a base under a conventional concrete pavement. Roller Compacted Concrete provides an excellent construction platform and allows the thickness of the final concrete pavement surface to be reduced. Because the Roller Compacted Concrete base allows for a reduction in the thickness of the conventional concrete pavement, multi-layer systems can be used cost-effectively in highway, airport, and heavy industrial applications and should provide the same long-term performance as full-depth pavements.